Stylish White & Green Wedding at Wotton House
When we met with Zoe and Dan the first time, introduced to us by the wonderful Caroline Sian Bishop , not only did we instantly click with them both as a gorgeous couple, but we fell in love with their brief (stylish white and green wedding flowers), their energy and them!
​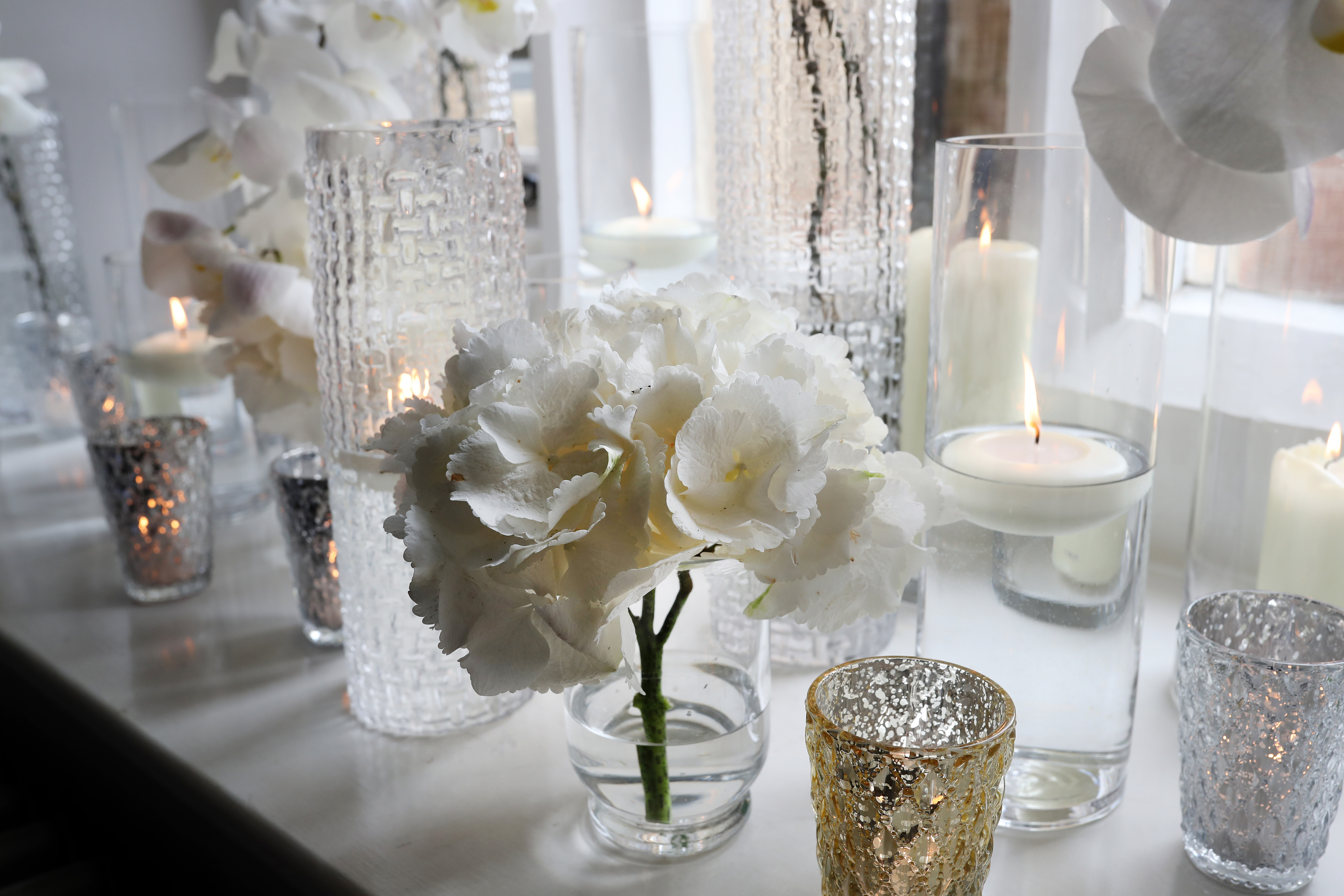 They were very specific on the designs being all white, with no foliage except the occasional glimpse of green from a leaf or stem of a flower. With it being a May wedding, we had our pick of the spring/summer flowers. Pure white flowers aren't always the easiest to find (even the most perfectly white peony will have the occasional fuchsia vein running through its petals!), but we opted for classic, traditional and white hydrangea, peony, orchids and roses, with some zingy lime green viburnum for added impact and texture. Some roses can look quite cream next to the brilliant white of a hydrangea or peony, so we made sure our rose selection was as crisp as possible.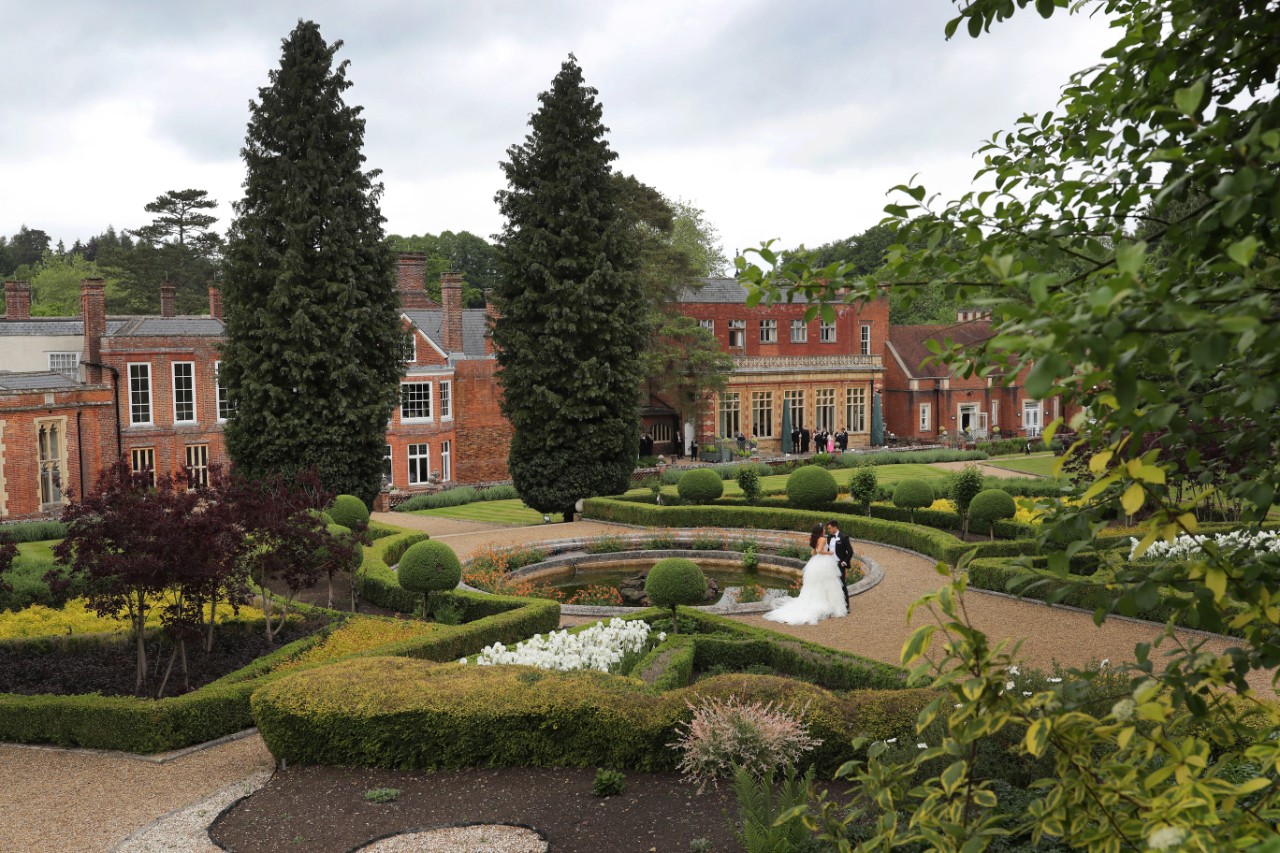 Wotton House set the venue for this spectacular day, nestled in 13 acres of land in the Surrey countryside and boasting the first Italian Garden in England (completed in 1652) which showcases some original mosaics, the Grade 11 listed property was the perfect backdrop. The Bride and her bridesmaids, all dressed in white, carried stunning and neat bouquets of white peonies – classic simplicity at its finest. We need to mention here the most stylish mother of the bride we have ever seen – dressed in white herself with a hat to rival any Ascot creation – she was a vision! No one, however, upstaged Zoe who looked absolutely sensational in her Monique L'huillier gown, glowing and radiating with happiness.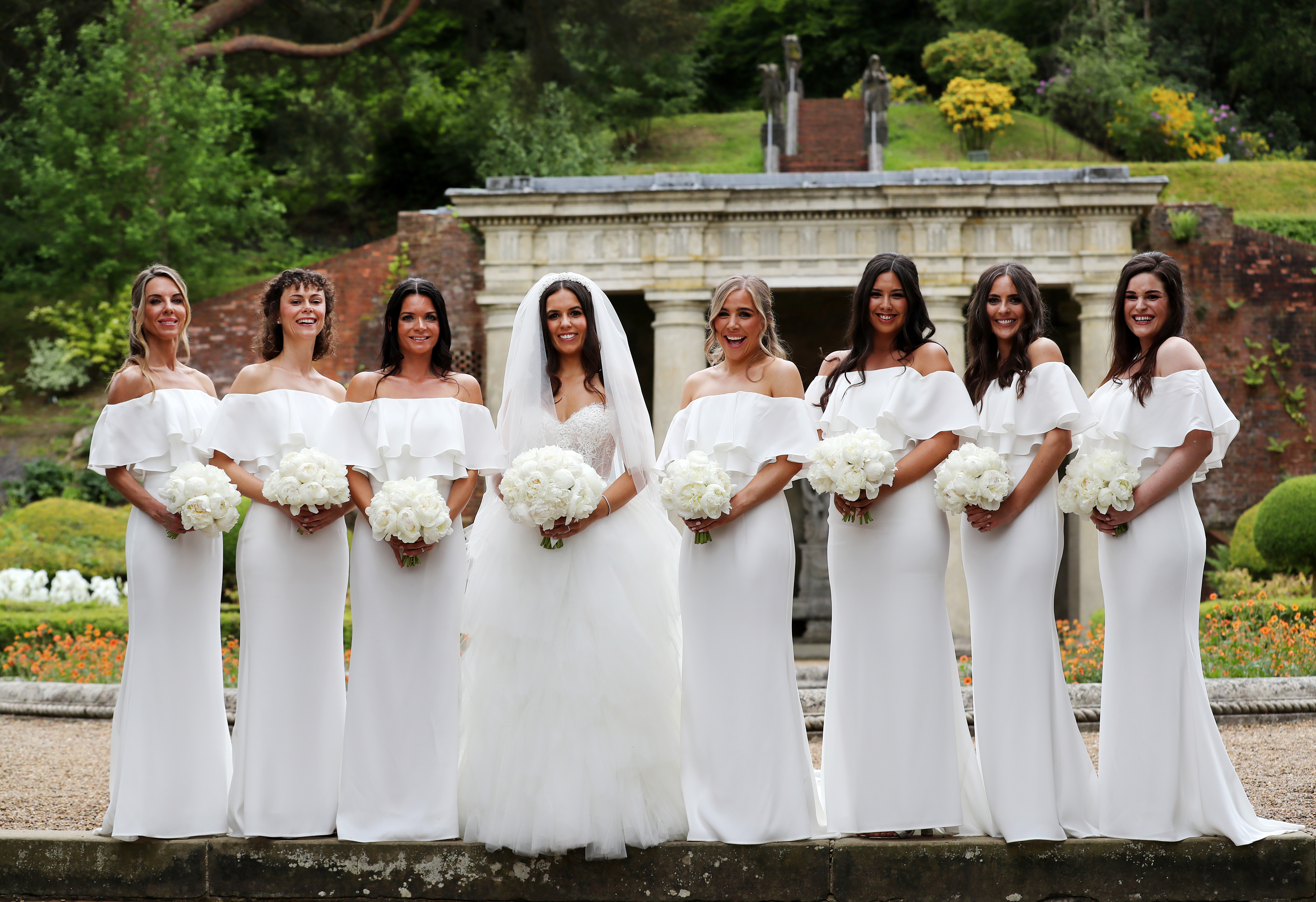 Walking down the aisle…
The ceremony was a gorgeous and classic affair, with stunning ball designs of compact white hydrangea and peonies lining the aisle, standing on metal plinths, giving the illusion they were almost floating. To create the most impact these were actually the designs to be used as table centres later on! Keep on reading to see how we made them look like totally separate pieces…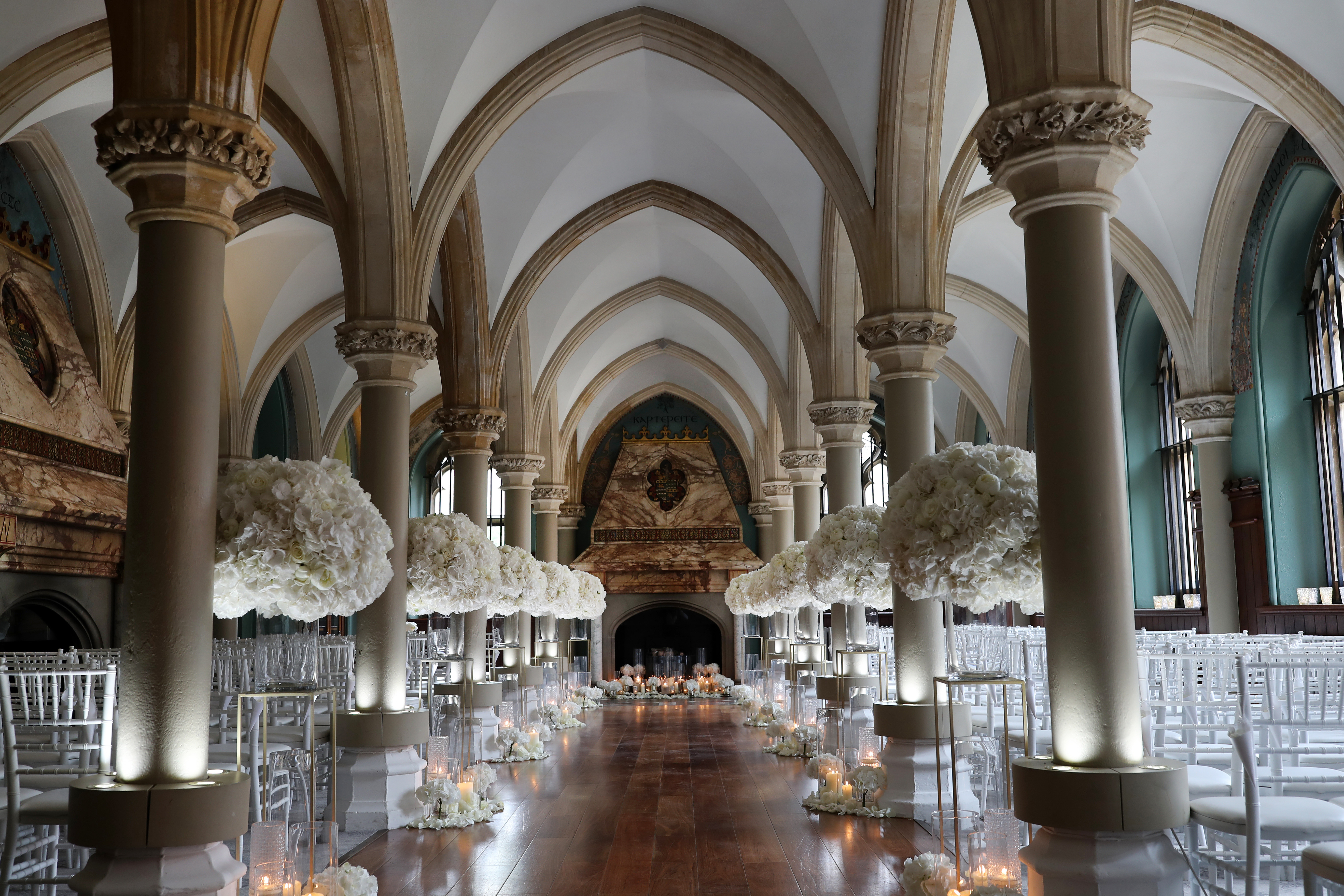 The Perfect Backdrop
At the top of the aisle was a large and ornate fireplace, itself a gorgeous feature, which we enhanced with an abundance of lanterns, candles and lower level arrangements with petals scattered around the designs. This created a beautiful scene to frame the couple as the backdrop for where they said those all important vows.
After the ceremony the guests moved outside where there was a bar dressed with the flowers of the day, grouped in clusters at different heights creating a sleek, modern, chic and luxurious look.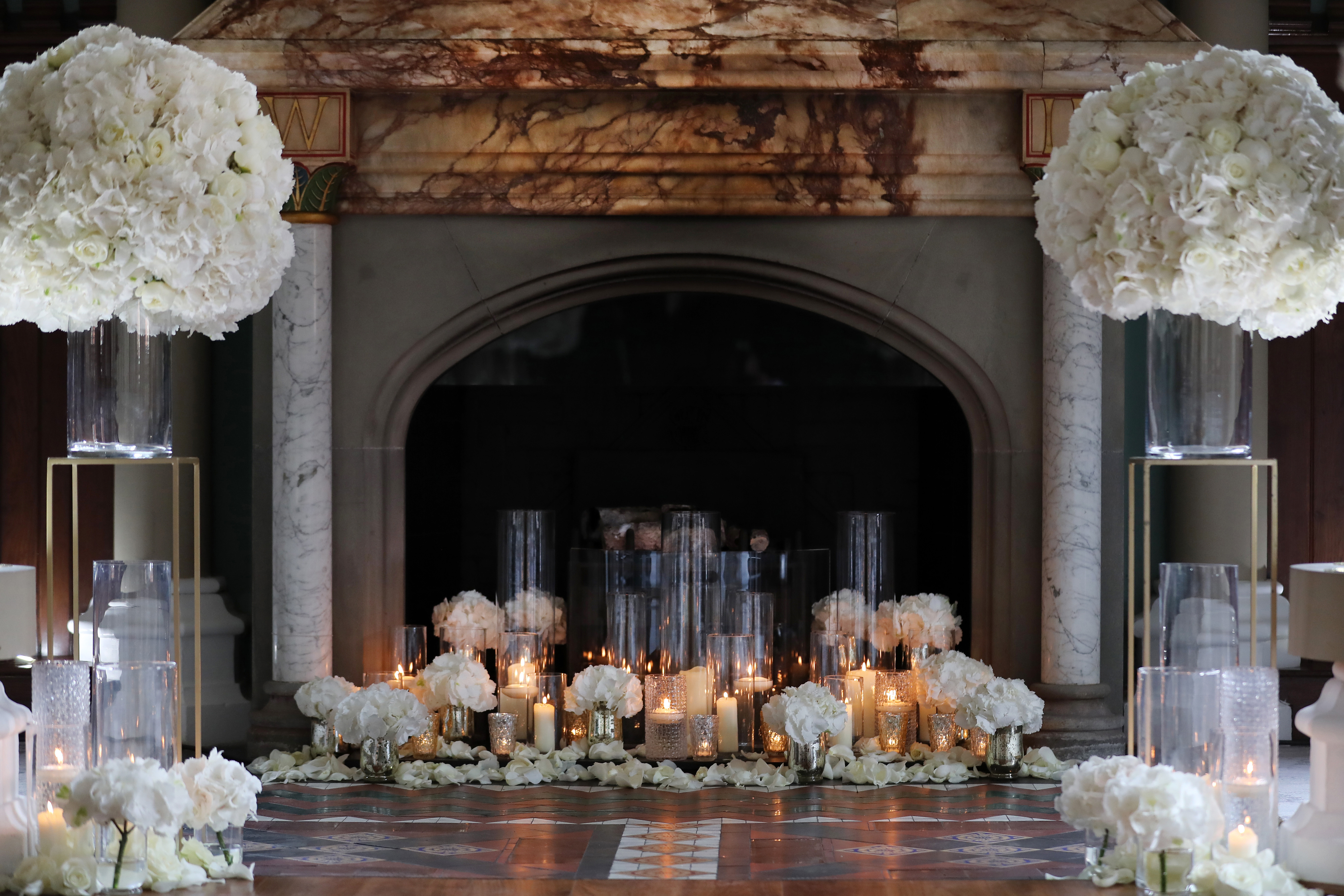 To make sure the couple and the guests gleaned the most out of the flowers, after the reception we moved the lanterns from the fireplace to the base of the table plan, while the flowers which had sat on the bar went on to adorn the table plan itself! Nothing looked 're-used' or the same, everything looked different, stylish and beautiful.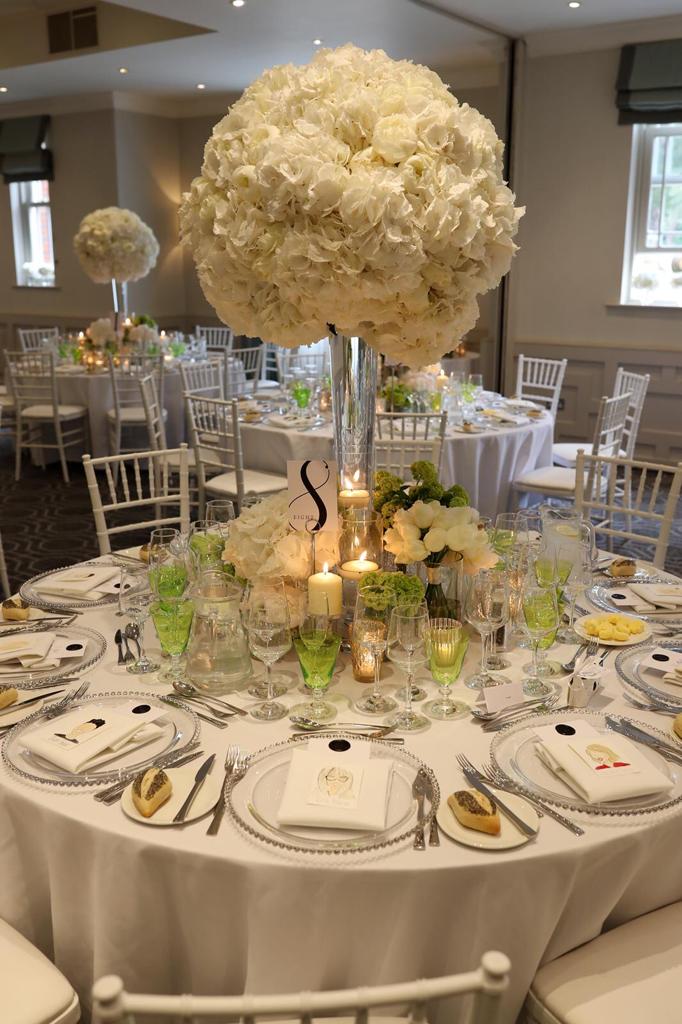 Transforming the space
The wedding breakfast had two different designs for the table centres. The first was a tall, classic and impact giving arrangement, set on fluted glass vases. These were actually the same designs which had been used down the aisle in the ceremony, but placed on completely different vases, giving a completely different look! The base of each vase was styled with clusters of peonies, roses and viburnum, with tea lights, floating candles and chunky silver candlesticks. We love styling the table as well as the flowers, so making sure those extra details were added into the flowers at the bottom meant they complemented the green water glasses and silver beaded charger plates perfectly.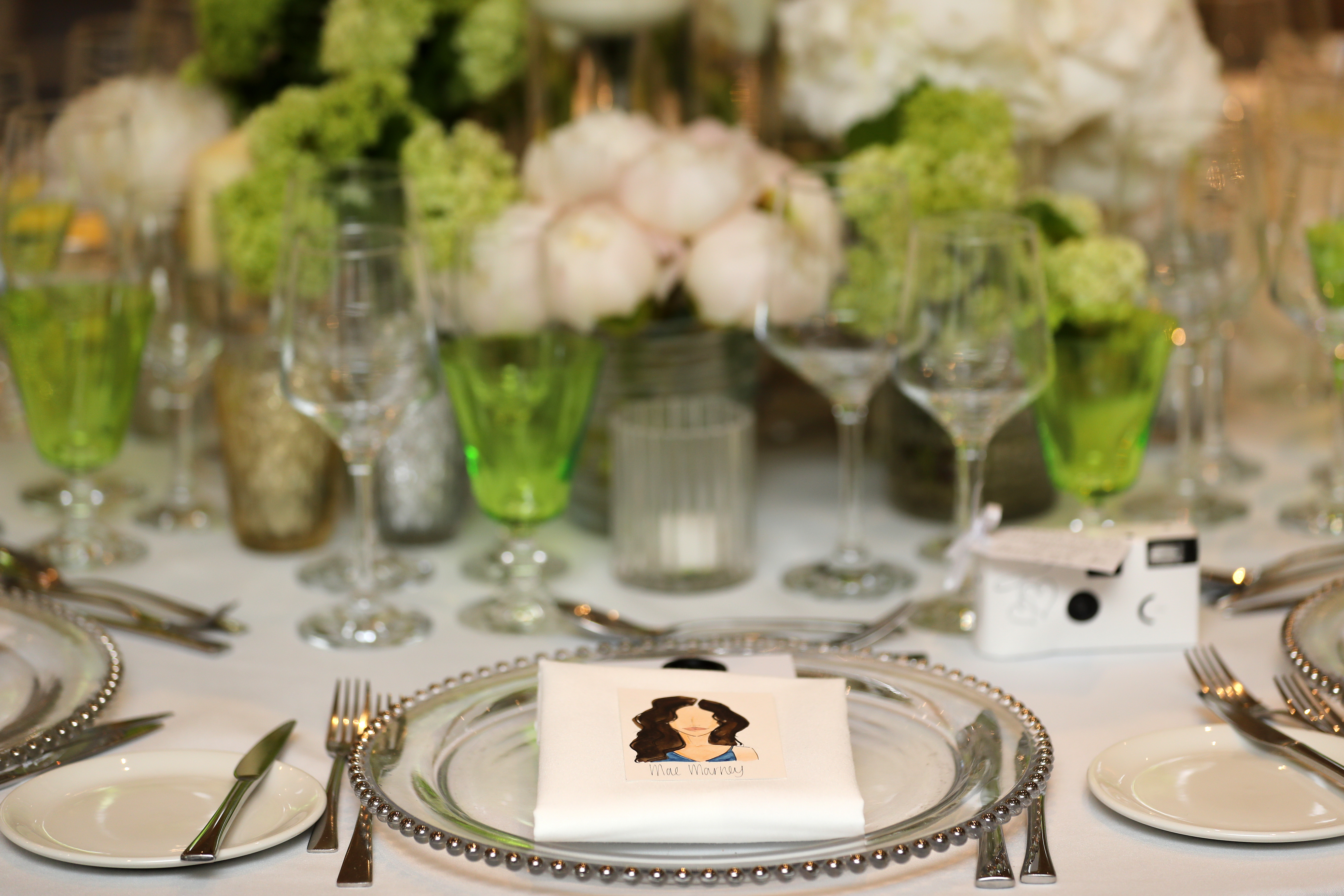 The second style was a lower design, but with a twist. We used all the flowers of the day, grouped together at different heights and with such an abundance of volume it looked like they were bubbling up from the centre of the table. These again were styled with floating candles and candlesticks, creating two dramatic and beautiful designs. The table flowers utterly transformed the room and Zoe and Dan were over the moon with the outcome, as were we!
Another creative touch our Bride and Groom had was that instead of having place names above each plate, they had a portrait of each guest waiting for them on their charger plate – what a fab way to find your seat!
Thank you Zoe and Dan, for letting us be a part of your special day, we were so honoured.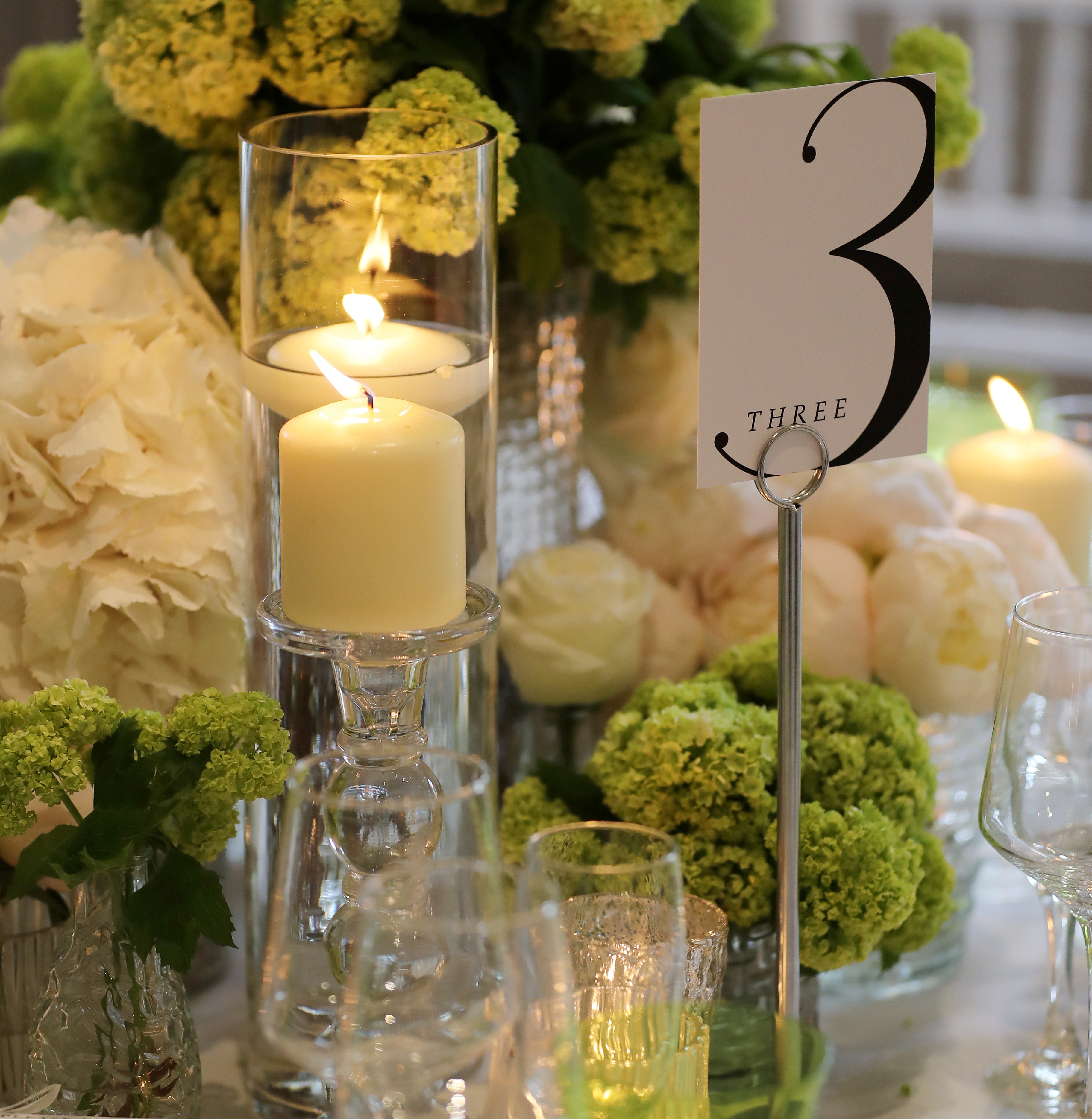 "…it was outstanding!"
"Working with Keeli and Jade was one of our highlights with planning our special day. We had a vision and they brought it to life exactly as we had hoped. From going to meet the examples a few weeks before the big day and literally falling in love with how the arrangements looked, to then entering our breakfast room on our wedding day, being completely overwhelmed with how beautiful the whole place looked. It was outstanding!! We couldn't have asked for anything more from them. They both went above and beyond with the help of their team to make our wedding look the way it did. Every single detail had been thought about and I cannot thank you guys enough. I am very excited to work with them in the future."
Thank you so much – we can't wait to work with you again soon!
If you would like to get in touch to talk over designs for your own wedding, or perhaps you have an event coming up which we can help you with, then please give us a call, drop us an email, or come into our studio for a cuppa – we'd love to meet you!
Lots of love
K&J xx
Keeli – 07769 665151
Jade – 07899 975542
Credits:
Wedding Planner – Caroline Sian Bishop @caroline_sian_weddings
Dress – Monique L'huillier from The Wedding Club @theweddingclub1
Makeup ~ Sarah Evans @beautytolivefor
Cake – Ever After Cakes @everyafter_cakes
Photographer – Simon Pope BeUnveiled Wedding Photography @beunveiledwedds
Venue – Wotton House @wotton_house_hotel
Videographer – Bloomsbury Films @bloomsburyfilms
Illustrator ~ Sarah Barker @eviestella
Chairs – Host With Style @hostwithstyle
Glassware – Couvert Hire @couverthire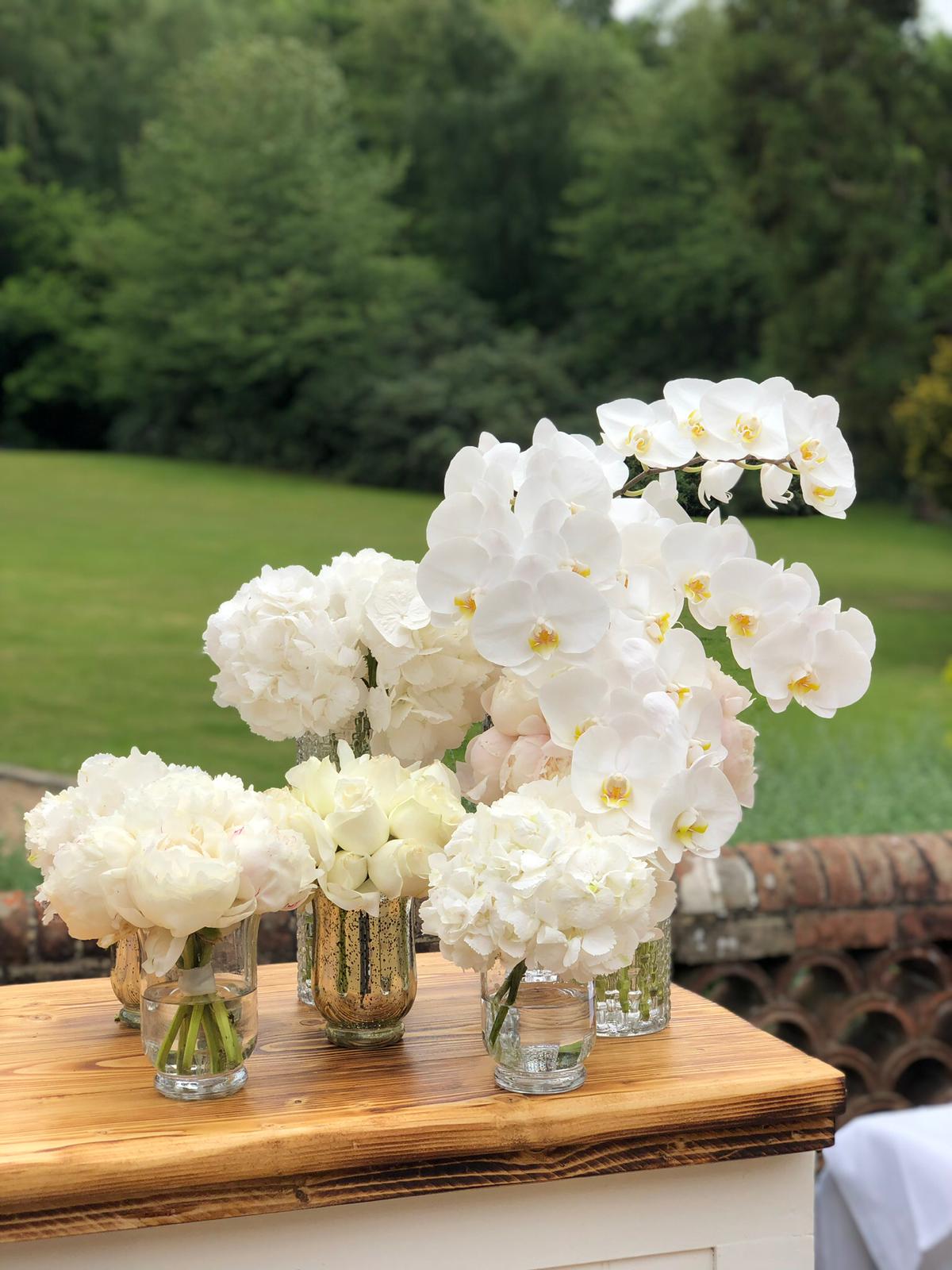 WEDDINGS
White Lilac will create the perfect floral finish for every aspect of your big day.
EVENTS
Breathe life into your corporate or personal events with floral styling the White Lilac way.
GALLERY
Cast your eyes over the beautiful floral creations our discerning clients have loved.

We would love to discuss your wedding flower styling requirements with you. Contact the White Lilac team below.