Stunning Destination Wedding Flowers in France
This summer we had the pleasure of working with our lovely friend and incredibly talented wedding planner, Matthew Oliver on the most incredible, dreamy and show stopping wedding flowers in France. We met the gorgeous Bride, Catherine, via Skype to get a feel for each other and chat over her ideas, colours and themes, which is what we like to cover in all our initial consultations, to really get to know you, your partner and the vision that you have for your day.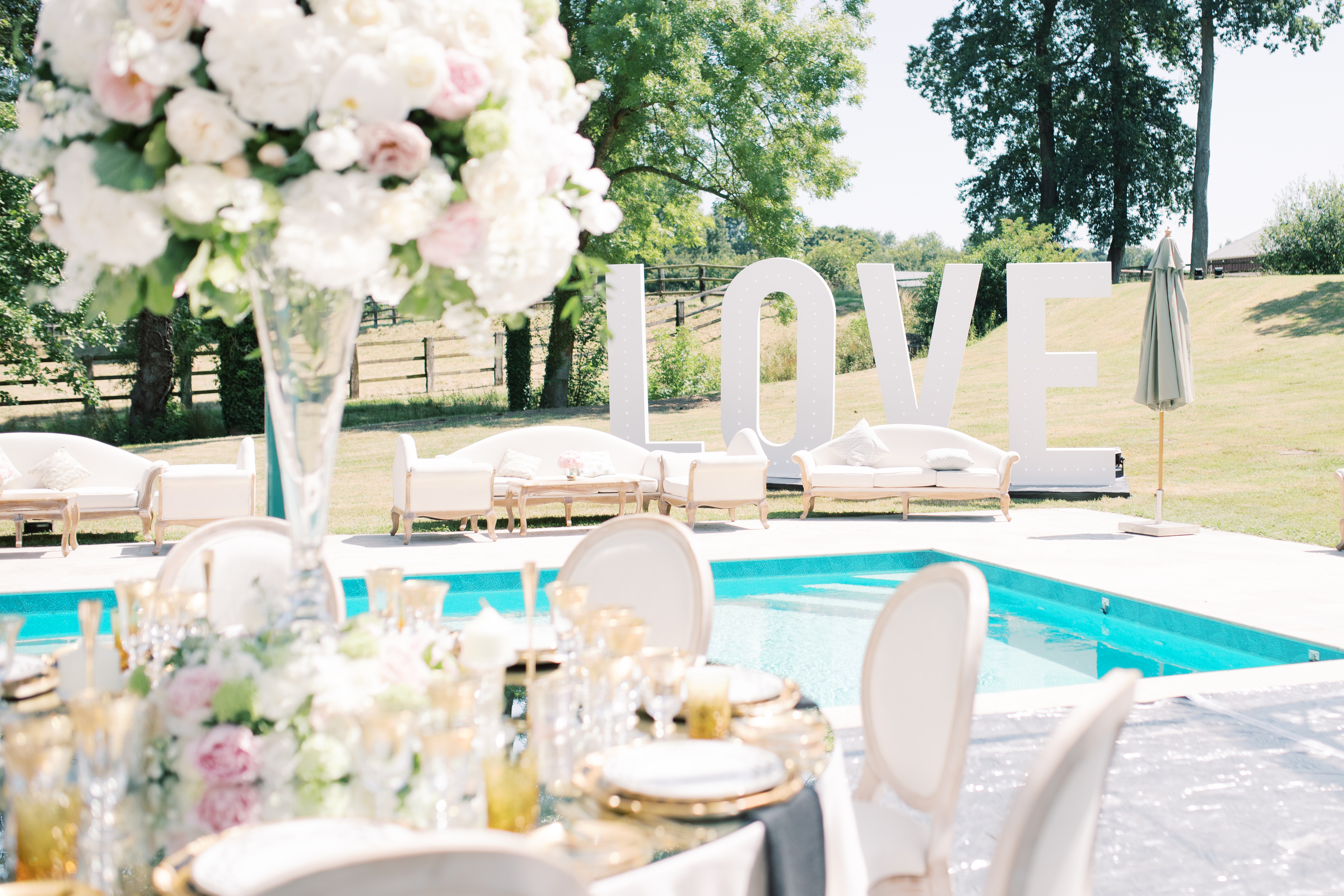 To start with, the couple didn't want anything which screamed 'wedding'. Catherine wanted striking, big and bold designs; we remember her saying about her jewellery "anything I wear has to be big and bold" so that's where we started to take our inspiration from. However, as the planning process with Matthew and his team developed, the vision started to take on a different form and shape and eventually, we all landed on a softer colour palette with a real 'princess' feel.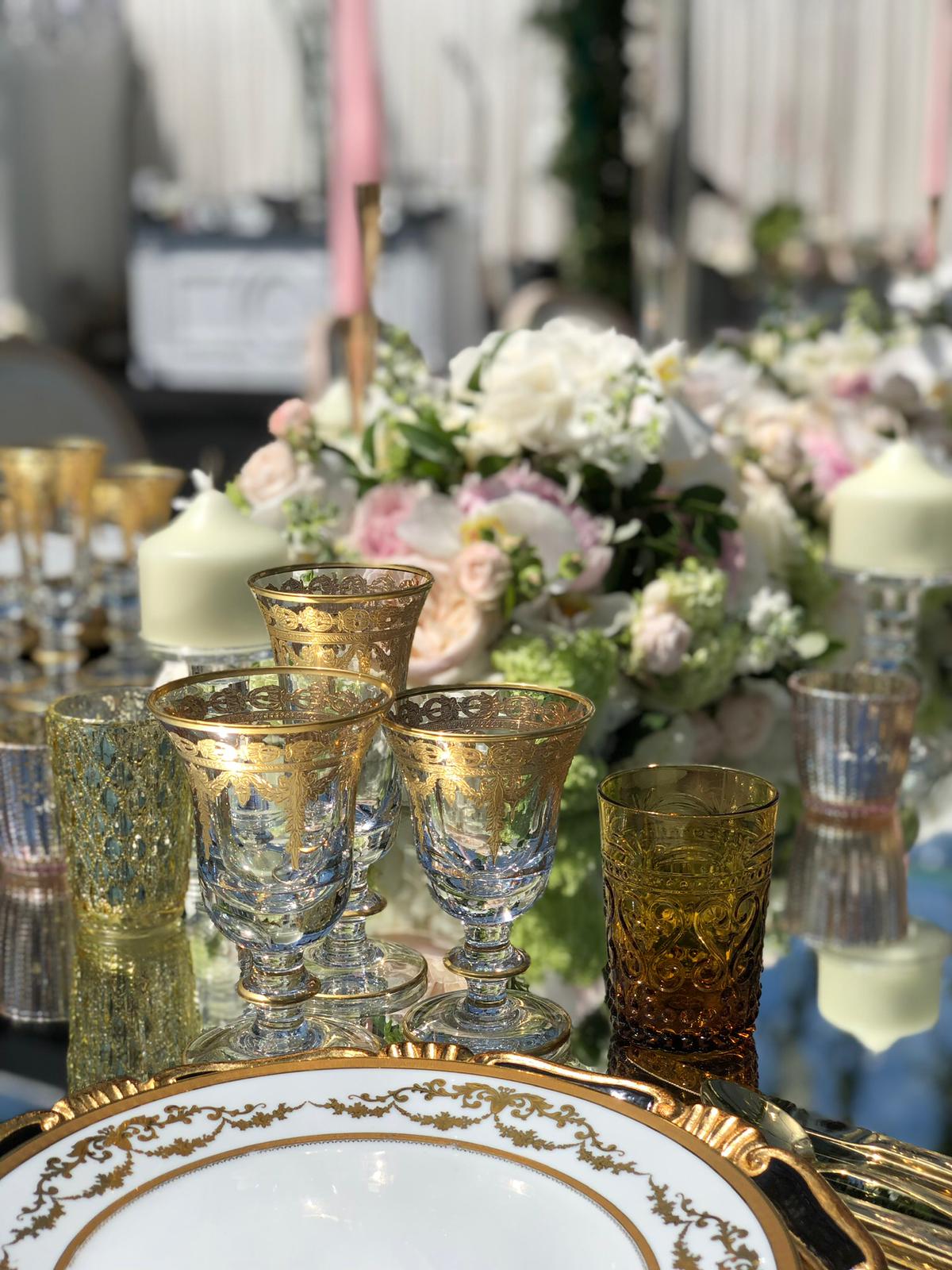 Luckily for us, Catherine and Alex really let us get our creative juices flowing, and once a scheme of black and gold had been decided on, with white and green florals, we suggested adding in the very soft pink to tone the whole look. This was really quite late on in the planning process to be adding in another colour, but it was just such a subtle nod to the blush and pink, it softened and changed the whole feel and our couple adored the idea and look! We used specialist roses such as O'hara and Secret Garden roses, which the names of alone are divine, but O'hara especially added such a heavenly scent it was the perfect finishing touch.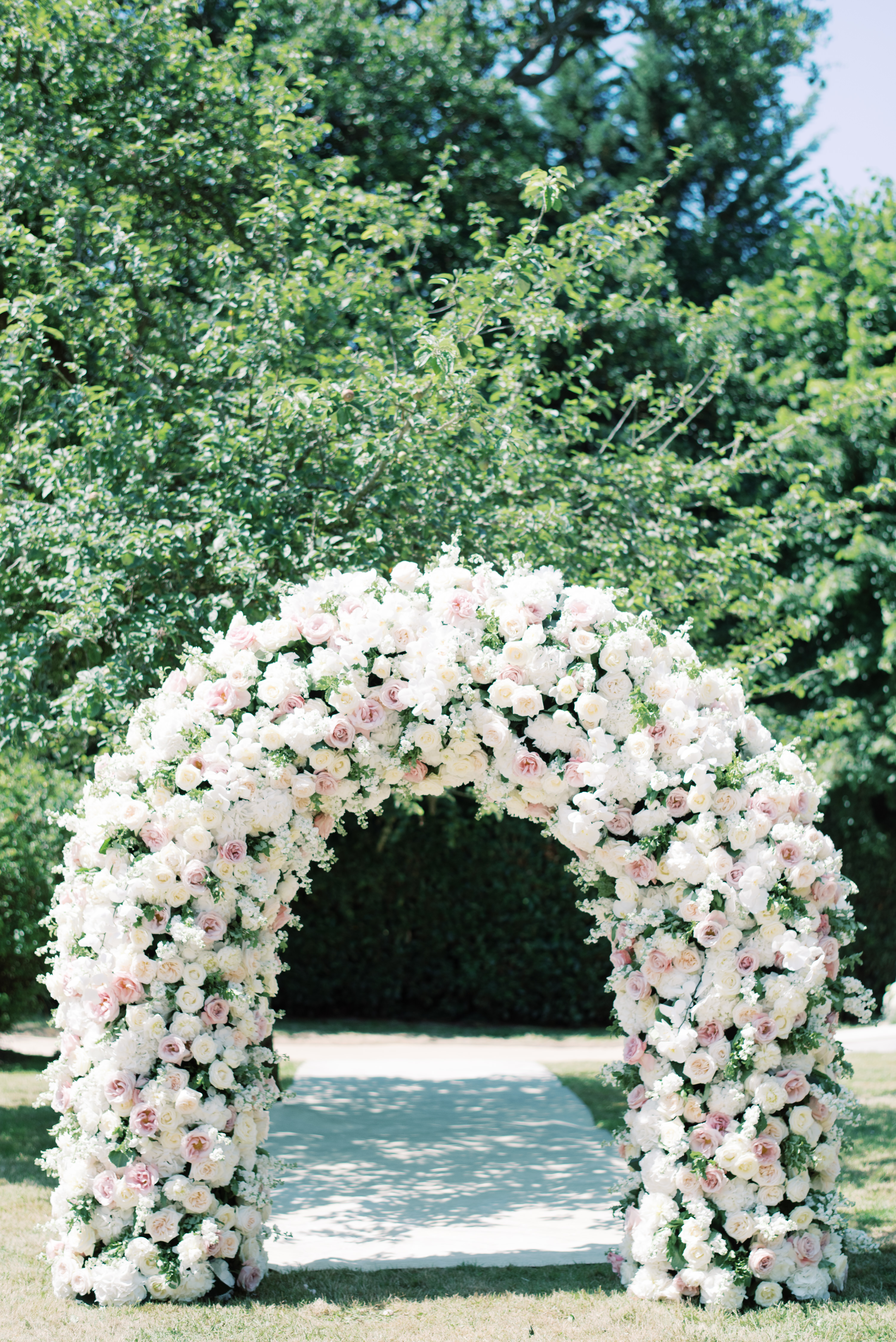 What dreams are made of
Once our discussions started to get more detailed, it was decided that there would be no 'small' touches, no little arrangements; everything was to be big, but soft. Enter the arch of dreams! Our amazing team (we honestly could not do what we do without the talent and dedication of our florists, they are just the best!) worked tirelessly in the hot French sun, to create the most stunning and luxurious arch. The photo opportunities this provided were unbelievable and the scent from the roses lingered and wafted over the gentle Provencal breeze, making sure all the guests were aware of its beautiful presence.
The colour palette of the day really lent itself to the gorgeous, big and blousy flowers our clients wanted to use; hydrangea, scented stocks and large roses and peonies. We have a real soft spot for Peonies here at White Lilac, as we know so many of our clients do, and we just love to use them in their short and special season. If you are thinking of getting married in peony season (Late May until the middle of July) then give us a call!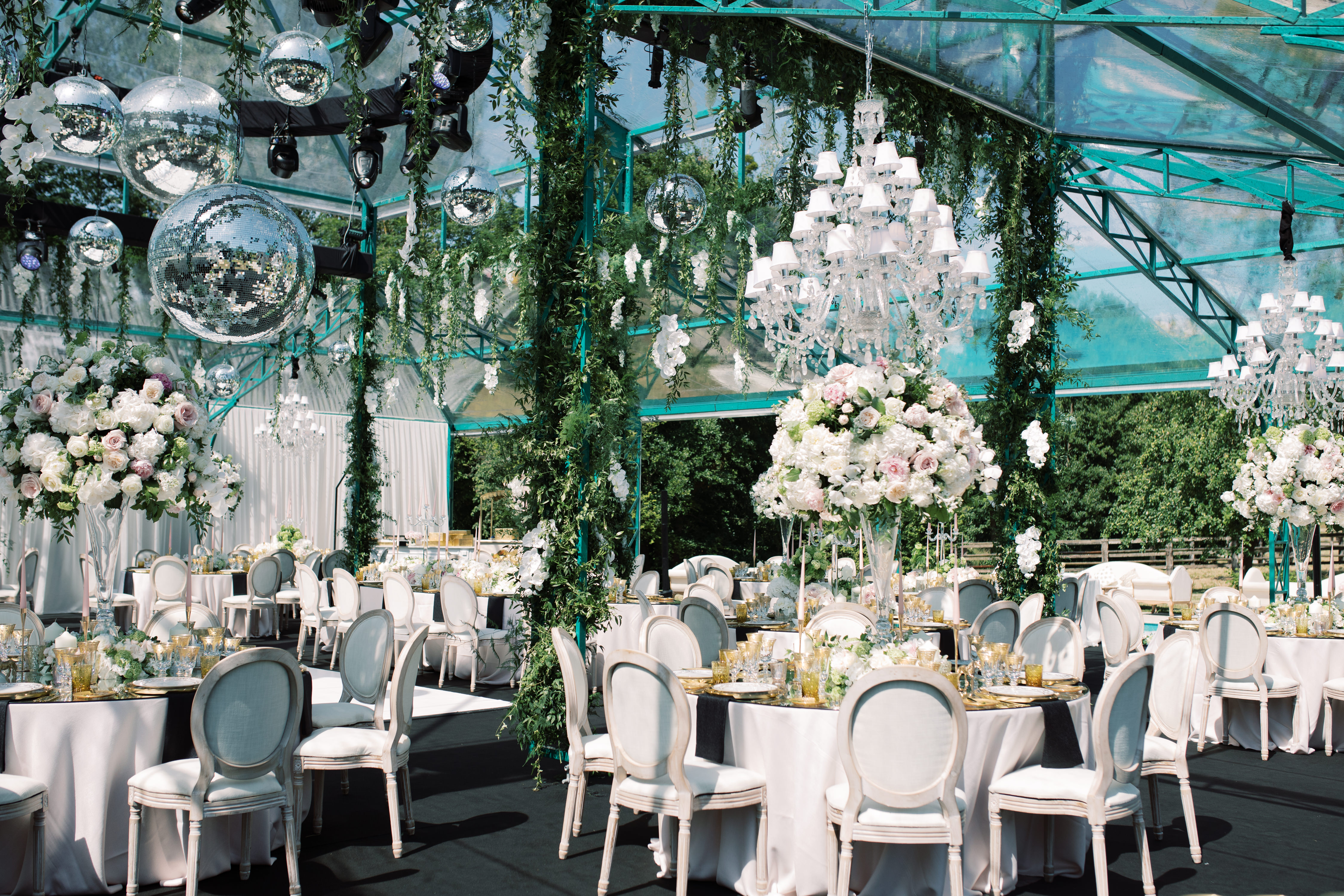 Bringing the outside in
As well as the gorgeous arch, there was a fascinatingly textured foliage wall (thinking outside the box and stepping away from the traditional 'flower wall') which had every kind of foliage we could think of including a treasure trove of tropical's sprayed gold! It was such a talking point for guests and added another pop of the gold wedding theme. We decorated the front of the incredible stately home which our lovely couple lived in, weaving jasmine throughout the designs so that the scent as you walked through the house was extraordinary. We also styled a lot of plants around the house and on the terraces, which complemented the wedding theme; hydrangea plants, jasmine etc. These were all selected especially so they could be planted in their garden after the wedding as a lasting memory of the flowers of their day! Adding little touches like this is something we really love to think about and do for our wonderful couples.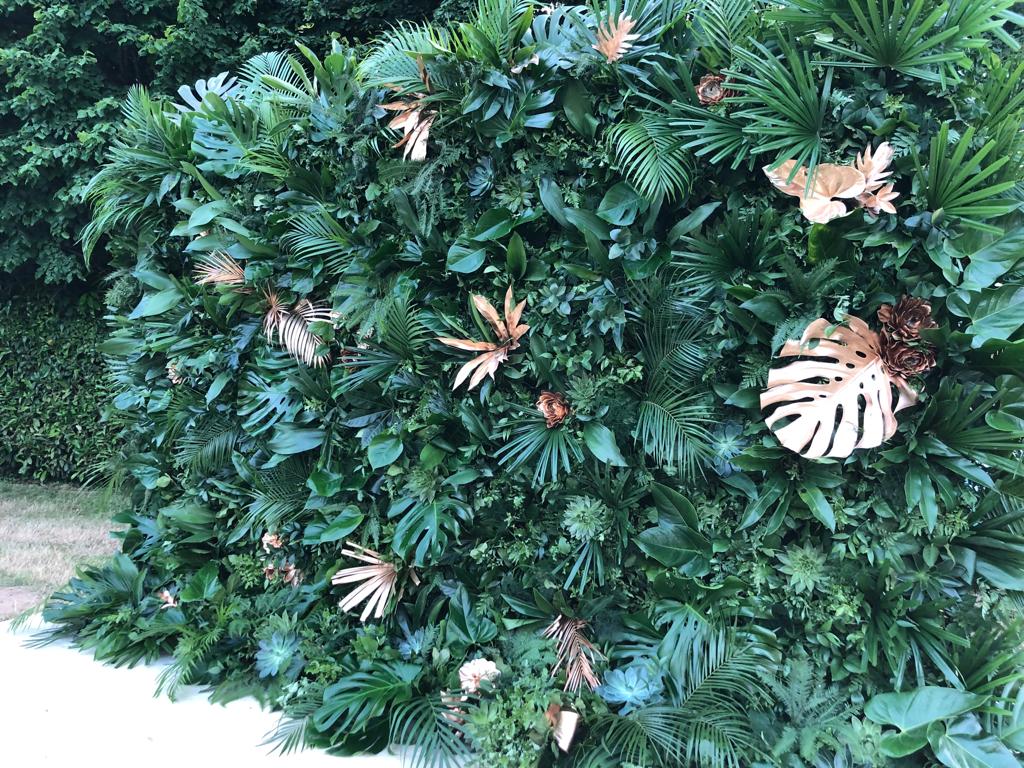 The dinner set up was under a transparent marquee structure, which we hung with cascading ruscus foliage and white orchids, covering the pillars and giving the guests a feeling of being outside. The tables were classically beautiful designs to complement the flowers and colours of the day on tall glass vases, but we added the extra detail of very pale pink, tall candles in gold candlestick holders. This completely finished the look and created a magical, 'Midsummer Night's Dream' feel to the wedding breakfast.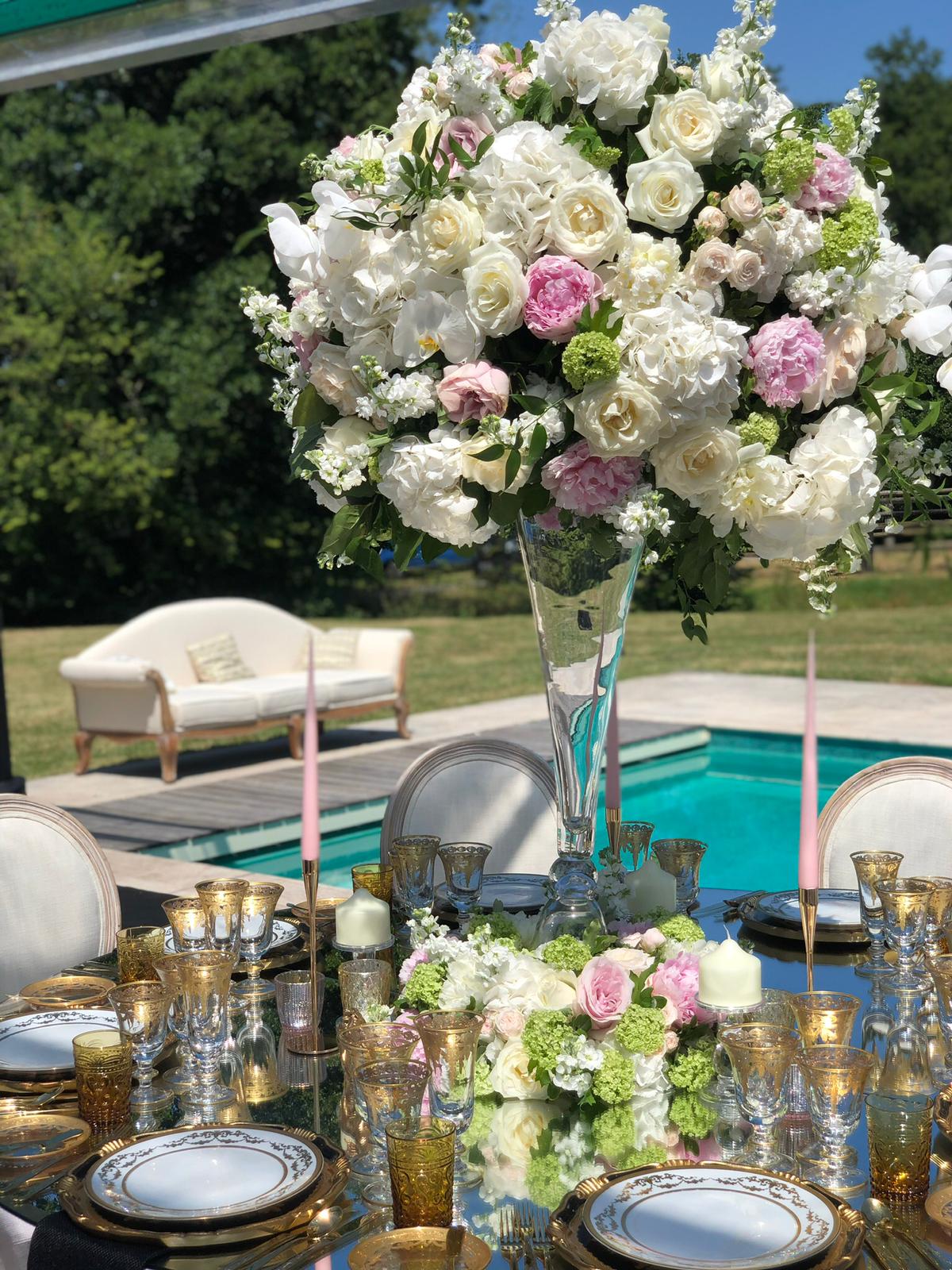 Teamwork makes the dream work!
We couldn't finish writing this without mentioning two last things – the first being her bouquet which was one of the most deliciously textured and scented works of art we could dream up. Filled with an abundance of sweet peas, scented jasmine, O'hara roses and stocks the scent was out of this world! Added to that the sentimental meaning behind 'myrtle' flowers (the symbol of love and marriage) meant that when we went to deliver the bouquet (one of our most favourite things to do on the wedding day) our Bride became quite emotional! It is such a privilege to be involved so closely in our clients' special days and we can't help but get emotional too and form friendships! During one particularly hot working day, Catherine came and sat with us under the shade of the gorgeous woodland trees to have lunch all together, taking the time to really make us feel welcome in her home.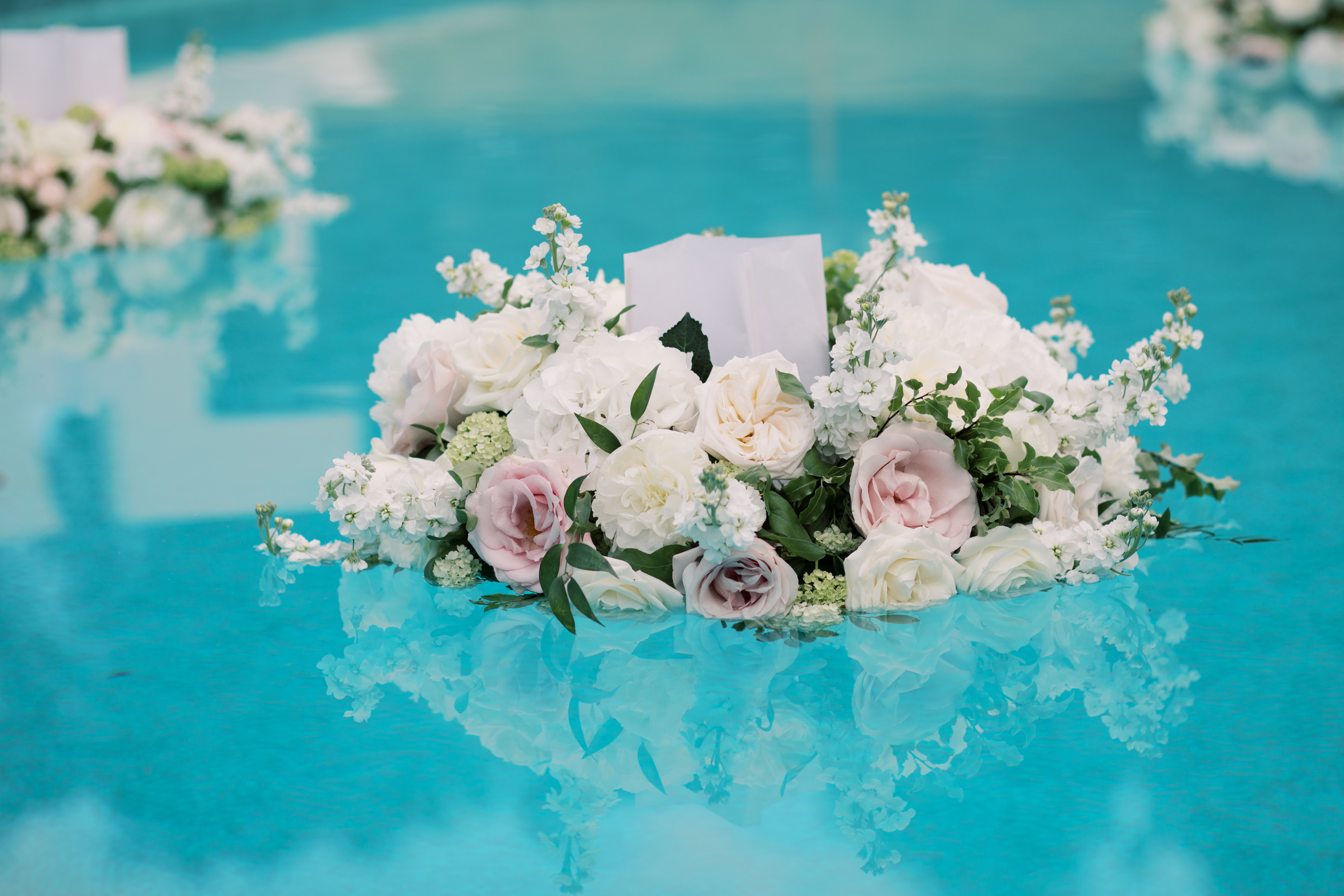 The second thing we must mention is a huge and heartfelt thank you to everyone who made this wedding possible. Working with Matthew and his team is always an honour – they are brilliantly talented! Also to the wonderful group of suppliers who all worked together to create this astounding event. Thank you to Ben Yew for taking the most beautiful photographs of the day and the flowers and for allowing us to share them with you, also the Deco Flamme production team, HD moments and last, but by no means least our designers. We really could not have done this without the incredible florists who came with us. They nailed the brief and were absolute stars – thank you!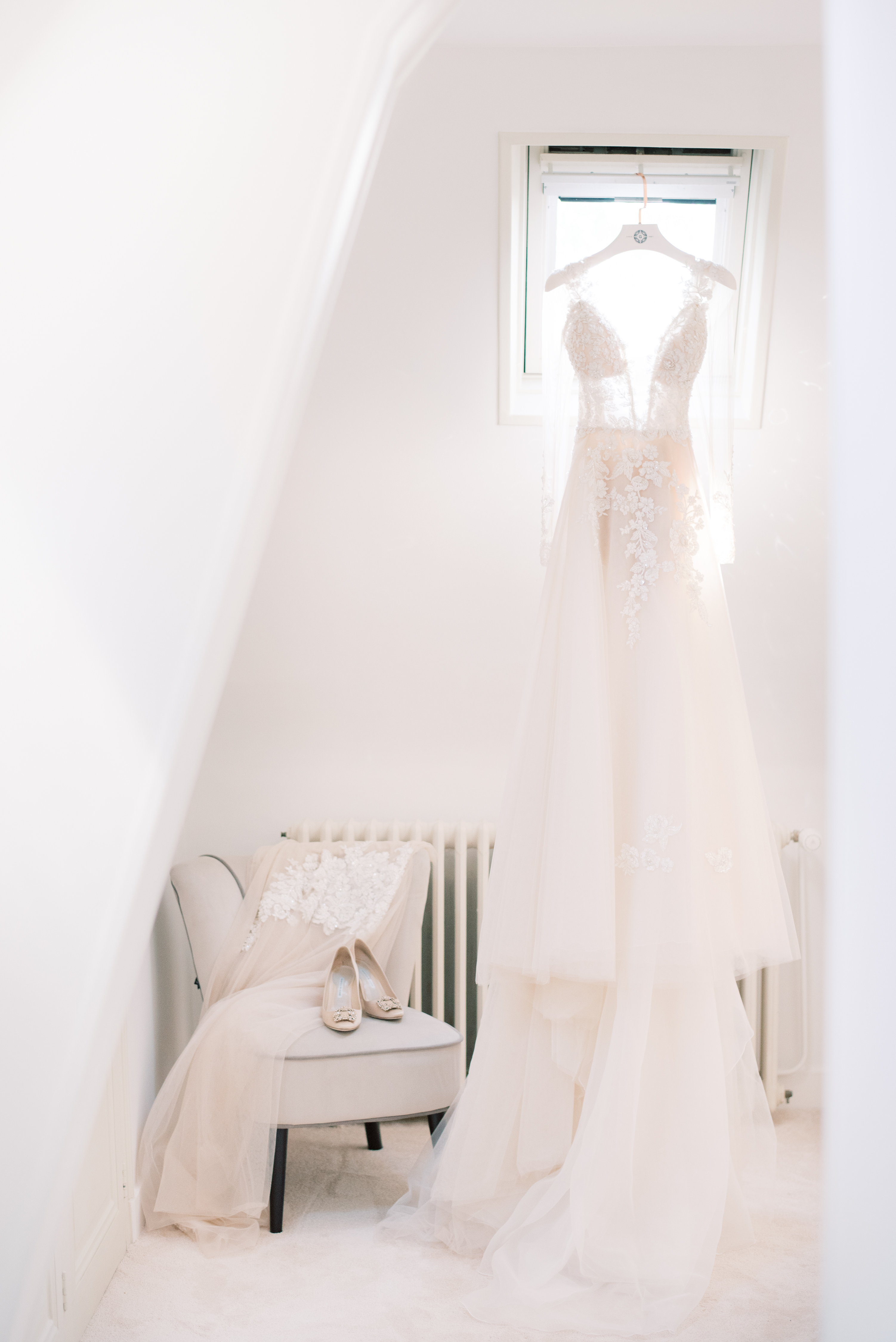 "…it was magical"
"Thank you for all your efforts, it was magical. The best wedding ever!" – Catherine and Alex.
Has this sparked off any ideas for your wedding or event? Or simply made you start to think about flowers? Then please do give either of us a call, or send us an email. We would absolutely love to chat to you about making your special day and beautiful reality!
Lots of love
K&J xx
Keeli – 07769 665151
Jade – 07899 975542
Credits:
Planner – Matthew Oliver @matthew_oliver_weddings
Dress – Bespoke made for the Bride by Galia Lahav @galialahav
Photography – Ben Yew @benyewphotography
Flowers – White Lilac – @whitelilacjk
Production – Deco-Flamme Live Production @deco_flamme
Videographers – HD Moments Wedding Films@hdmoments
WEDDINGS
White Lilac will create the perfect floral finish for every aspect of your big day.
EVENTS
Breathe life into your corporate or personal events with floral styling the White Lilac way.
GALLERY
Cast your eyes over the beautiful floral creations our discerning clients have loved.

We would love to discuss your wedding flower styling requirements with you. Contact the White Lilac team below.